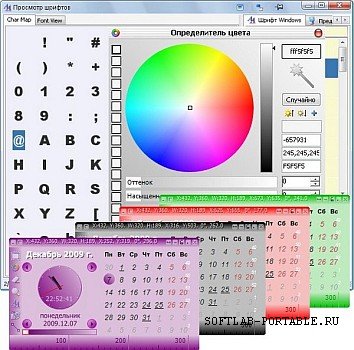 Многофункциональная программа для работы с рабочим столом, снятия скриншотов и работой с графикой. Возможность создания скринов. Возможность извлечения нужного оттенка из конкретного пикселя картинки. Администрирование рабочего стола. Изменение шрифтов и стилей. Конвертер форматов. Возможность распоряжения сохраненными копиями. Опция живописи карандашом на экране с помощью мыши. Органайзер и календарь. Полная настройка системы. Capture .NET умеет получать цвет выбранного вами пикселя, то есть знакомая всем пипетка, наводим куда надо и узнаем код цвета.
Органайзер включает не только будильник, но и встроенный планировщик. Capture .NET также позволяет вести управление установленными шрифтами в системе, встроен неплохой конвертер, вы сможете также управлять резервными копиями, с помощью функции карандаш можно рисовать на рабочем столе любые фигуры и надписи. Конечно Capture .NET имеет довольно любопытный будильник и экранный календарь, который можно лицезреть на скриншотах, между прочим стиль календаря можно детально настраивать, все это делается в опциях. Встроен неплохой системный настройщик, в общем всяких фишек достаточно много, запустите программу и посмотрите сами.
Capture .NET имеет Русскую локализацию, заходим для выбора в настройки, потом опции и на первой вкладке надо справа выбрать нужную локализацию. Рекомендую внимательно посмотреть список горячих клавиш, с их помощью можно намного быстрее выполнять все операции. Низкие системные требования позволяет работать с программой даже на очень слабых компьютерах.
An integrated, multi-functional, powerful and general-purpose System, Design, File, Desktop and Develop utility. Capture screen. Capture color. Screen ruler. Font Manager. Windows Spy. Privacy eraser. Converter. BackupExpert. Alarm Clock. Post It. Screen Calender. World Clock. System Tweak. Timer and other utilities.
Capture Screen : The most complete fetch includes: ( window ( Translucent / Rounded corners translucent / -rectangular ) / object ), scroll , select *, handwritten *, custom size * ,
( Support capture of multiple objects (use CTRL Support capture of multiple objects (use CTRL Key) )
Image Editor : paging mode can also handle multi-map, you can also directly open the external file for the file to add special effects, support format ( bmp / ??gif / jpg / png / tif )
Dynamic Icon / GIF / Extract Icons (*. *)
In addition to the basic editing, including : rotation, cutting , grayscale, edge effects , selected effects , watermark and transfer function.
International Calendar : including national festivals , custom festivals, constellations , week numbers and other functions show, especially for different countries, cultural characteristics show the local calendar form.
Chinese Lunar : unique lunar calendar function, including the lunar calendar, the Lunar New Year, dry branch calendar year, choose Japan and other Chinese cultural function display.
Lunar Phases Consolidation ( (17) ): Complete display of eight months of profit and loss image and message.
Screen Reminder : Perfectly integrated calendar, can be used as a daily memo, diary or record the use of important events of the day, click the lower right corner of the calendar switch (+/-) memo function, support password protection / importance settings.
Screen Ruler : the appearance of the program itself is a ruler can be used to measure any length and position of the window screen can be arbitrarily telescopic , specify the rotation , fast rotation (Tab) and foot mode switch.
Allows you to save your measurement records, unlimited records at different scales.
Degree measure : directly click on the function icon to pull out a length of any length and position of the measurement line, 360 degrees can be arbitrarily measured on the screen angle position.
Screen Clock : to provide ring timekeeping and event trigger management functions can be switched to the clock mode completely does not account for desktop space or by the operation of interference (the other to provide digital clock switch).
Synchronize Time Time Calibration : Synchronize with the world time to customize the source time server to automatically synchronize with the secondary server when the default time server is not working properly.
World Clock : taken from the operating system time zone data, synchronized with a complete list of time changes in different time zones around the world.
Screen Pencil : free on the window screen graffiti, to provide unlimited number of times to clear the redraw, screen zoom scrolling and magnifying glass function, in addition to the results of the image archive.
Privacy Eraser : Complete Clear System Temporarily with Internet privacy, making the operating environment more secure and stable, right-click menu to provide a single item clear and view function.
Other features include: Edge / IE / Chrome / Firefox browser Cookies save , custom file and directory removal and privacy optimization settings.
Software history clear : automatic way to deal with the same software can support all versions of the same version and future version of the history of clear.
File Shredder : Allows you to delete a private file so that it can not be restored by any means, and you can drag and drop multiple files or directories to the "Privacy Clear icon".
Windows Spy : homogeneity function integrated in one, divided into five major functions:
Inspector : Drag and drop (mouse view / web editing / window password view / IE web password view ), drag inward ( SFV / hash computer / database password view).
Programs : special handling for the currently open third party (overhead / hide / transparent / close and forced off).
Process : the ability to view the current running name of the program / service / path / copyright information and other information, you can for suspicious program forced "off" or stop "service".
Unique service information integration: be able to clearly understand why the operation of the service, different from similar software only shows the program name, can not understand the "same program" its service name.
Network : You can view the current third-party use of TCP and UDP (to provide mandatory delete unknown program function), but also can view the current download network traffic.
Clipboard Scrapbook : Direct monitoring of data objects from the clipboard and DragDrop (DataObject), providing automatic resolution.
File Manager: Consolidated batch file name change, file cutting and merging, detection of duplicate files and other file processing.
Batch Renamer : can be replaced for the file name or extension name, including: case conversion / Chinese simplified / custom before and after the surrender / digital accumulation, support synchronous preview, renamed after the copy and move processing.
File Split / Merge : 1. Can handle the size of TB, 2. After the file can be merged (xxx.bat), 3. Can be any combination of source files (*. *), 4. Support SFV file authentication set up.
Finder : Supports repeat search and general file search.
Attribute Changer attribute : the ability to modify the file attributes and date and other functions.
Font Viewer : allows you to quickly browse and manage fonts, support for unified code display, add my favorite , external font browsing , font control , style settings , display settings , font information display ... and other features.
Post-It : Allows you to keep up-to-date or reminder messages, support rich file formats , ring and event settings, remit, and multi-faceted interface settings.
To add a window to the window, click the 'System Menu' or ' 5 ' on the 'System Menu' . Through the management program.
Keys : Bold (Ctrl + B), Italic (Ctrl + I), Underline (Ctrl + U), Strikeout (Ctrl + S), Bullet (Ctrl + Shift + B), (Ctrl + E), Right (Ctrl + R), Justify (Ctrl + J)
CountDown / Up Timer : can open multiple timers at the same time to deal with different purposes, can be used to save the record for continuous, and provide the ring and the default event function.
Backup Expert : Support bookmark (Favorites: IE / Firefox / Chrome) and Subscribe (feeds) backup, mail (Office Outlook / Windows Mail / Outlook Express) and custom (Custom) way to backup and restore.
Converter conversion : to provide a wide range of conversion functions , CHM-> HTM , simple and cumbersome , Image Converter conversion , Image Resizer , Change Styles conversion.
Text Format : 1. Support Unicode / ANSI / ASCII, 2. Automatic identification of source format, 3. Source page file automatically modify the code, 4. Unicode automatically restore the page code text.
Capture Color : Click the magic bar to get any pixel color and reference value in the picture, you can fine-tune, on-demand and query the system default color, you can also save the color.
Device Manager Device Manager : Integration of four disk device management functions: to provide disk hidden , disk access restrictions , CD lock to prevent the use of others, the relevant function settings ... and so on.
CD lock and USB lock , easy for private computers or commercial computers can limit the use of ordinary people to prevent leakage of confidential information.
Tweaker information and optimization : perfect compatible with different operating environment, can automatically for different environments for configuration and processing.
System message display : able to display detailed computer / software information such as software / hardware.
System optimization settings : no complicated and useless ( Myth ) settings, only to provide the necessary and commonly used settings, the classification of eight sets of items, the operation more intuitive and simple
System: Include, Privacy, and other unclassified optimizations.
Services: Allows you to safely shut down some unnecessary or unusual services, thereby increasing system speed.
Visual Effects: Visual optimization settings make the operating environment more beautiful (recommended to open the project).
Logon: includes login settings, login services and automatic login ... and other related settings, so that start the operating system more quickly and easily.
Shutdown: Include event off, auto-shutdown, and shutdown time for program and service wait time, make shutdown processing easier and faster.
Security: Contains UAC , SystemRestore ... and other related security settings.
Windows Update: Ability to manage Windows auto-update and service functions, support for prohibiting service packs for mandatory updates ( SP Blocker ) and forbid IE8 forcing updates ( IE8 Blocker ).
Restriction: Allows you to turn off features that may affect security in a shared or more secure environment.
IE fix : allows you to quickly view and clear the system has been installed or unknown program (support IE5 / 6/7/8/9).
Miscellaneous Manager Miscellaneous Management : allows you to quickly view and clear the system has been installed or unknown program.
Windows Startup Startup : You can clear, view, or deactivate programs that are started when you boot.
Context Menu : delete and view the "IE and File Explorer" right-click menu on the function to open the project.
System Folder directory replacement: can be changed at the same time move or browse the system directory.
IE Toolbar IE Workbar : You can delete and view additional programs on the browser's work bar.
Installed Software (Registry Key) : Removes the login message that remains on the login table after the anti- installation.
Uninstall Programs installer : You can installed on the system properly (if the installation fails, you can perform automatic removal to reinstall the fix).
Quick Launch : In addition to the built-in default items , you can freely add a quick start item such as a file / directory or URL to open it through the main menu or the system tray ( click the left mouse button ) to set the Hide,
Consolidate window clock and timer event handling, can perform specific functions at specified time or in countdown mode, through quick start self-expanding event function.
Quick Run Execution: Full inheritance of the Windows Run ... feature, combined with the Quick Launch Quick Start feature, which allows you to quickly start with AutoComplete (AutoComplete).
Hot Keys : can specify any program at any time to hotkey way to open.
MSI / MSU / CAB Extractor MSI / MSU / CAB decompression : simply drag and drop to the window clock to extract MSI / MSU / CAB compressed files, no need to install any third party tools.
System Notifier : Provides real-time updates to show current: date and time, CPU usage (multi-core support), remaining memory, all open network traffic and powered on ... and other messages.
Memory Manager : to provide you with the release of software idle memory, effectively improve system performance, make the system more smooth operation.
Custom Customization : Full customization from display panel, icon, language, menu, shortcut key function and main taskbar function.
Custom panel Download skins.zip : Unzip the sample file into the directory where the program is located and place it under skins to add or replace the default.
Customize the workspace / custom menu : If you feel that the main function item is too much or not used, you can cancel or turn on at any time by setting the function.
Custom icon : You can change the function icon freely by going to the setting item (Options-> General), or you can type Delete to restore the preset icon.
Custom language : You can easily add different languages ??or modify your default language, or you can share your language.
Custom keys : complete custom system hotkey (Hotkeys) and program shortcuts (Shortcut keys).
Custom color.
Информация о программе: Язык интерфейса:
английский + русский
Платформа:
Windows XP/2003/Vista/2008/7/8/10/11
Год выхода:
2023
Размер (7z):
3 Мб
архив не запаролен
Download / Скачать Capture.Net 14.3.7827.1 Portable